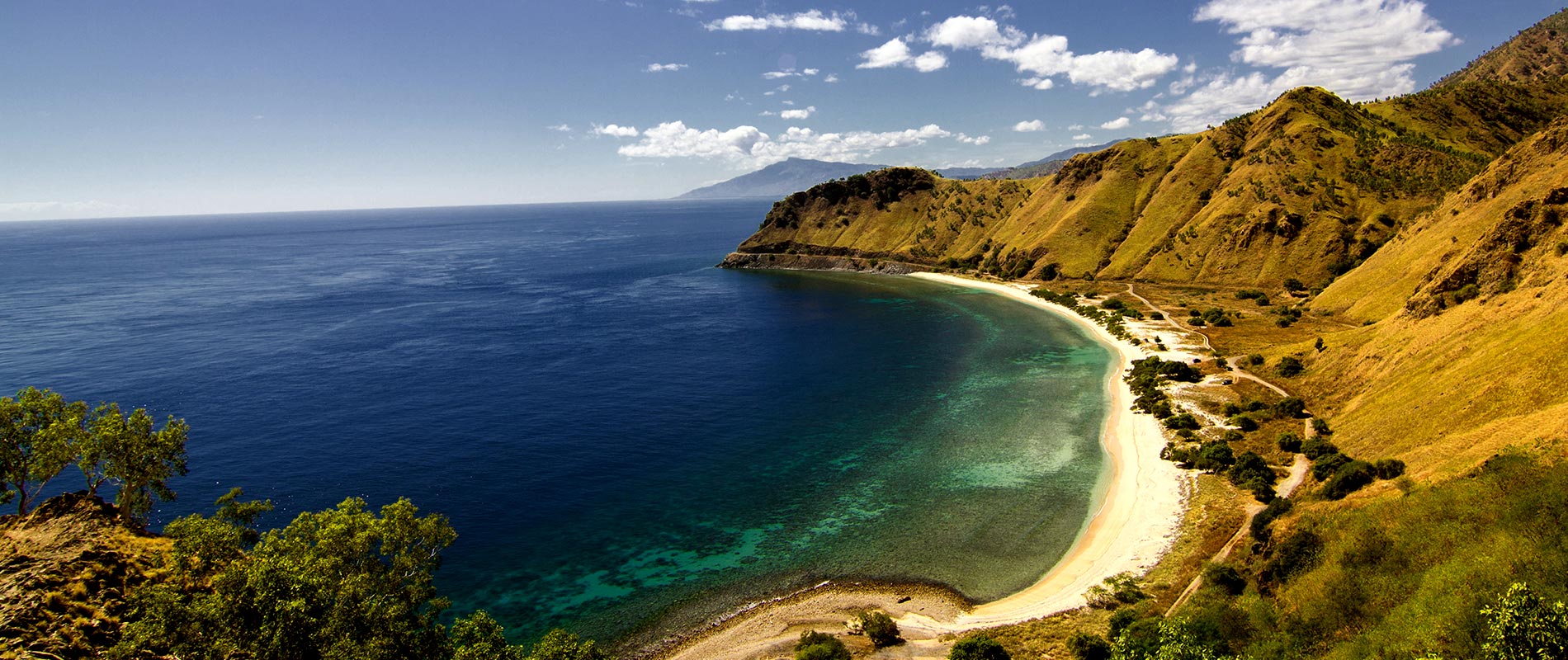 Why Atauro Island
Whether you are dreaming of a luxurious island getaway and white sand beaches, pristine coral reefs and diving that takes your breath away, or a new world to explore with immersion into a vibrant local culture— Ataúro has something for you.
Just 25 km long, Ataúro is home to a wide variety of landscapes, animal inhabitants, and plant life—both above and below the surface. With a rugged mountainous center and narrow coastal plains, vegetation varies from dry grasslands and eucalyptus savanna to semi-evergreen tropical forests. The highest point on the island, Manukoko Peak, is sacred to the people of Ataúro, supplying the entire island with freshwater from flowing streams during the wet season. Whether from the top of the mountain or the boat ride over, keep an eye out for cruising whales and pods of 100+ dolphins that frequent the waters around the island during October and November.
Ataúro offers pristine dive and snorkel sites that are amongst the least explored and most ecologically diverse on the planet.
Ataúro has the highest fish biodiversity of any place on earth, according to a survey conducted by Conservation International in 2016. You can spend the day snorkeling out over the sloping reefs near Beloi, or hike over to the West to dive the deep coral drop-offs of Adara. Rainbow reef fish, schools of giant silver trevally, and colorful nudibranch swarm the reefs around the island, offering one of the most beautiful—and best locally protected—dive locations in the world. Ancient tara bandu systems employ local marine protection to ensure that areas are not over-fished, while local people benefit from tourism via a $2 fee charged to each diver and snorkeler. This conservation strategy has paid off, and you will be a first-hand witness to its success on your first dive below the surface.
There are five distinct areas, or sukos, of Ataúro—Makadade, Makili, Vila-Maumeta, Beloi, and Bekeli—home to around 10,000 people total. Most people are subsistence fishers and farmers, living in small towns and modest homes linked by a dirt road or walking paths. Increasingly, tourism is becoming an important part of local peoples' livelihoods, helping them to protect their natural resources and share their natural and cultural heritage with the world.
This heritage is as vibrant as its people. If you are a history buff, be sure to visit Vila to see the prison used during the Indonesian occupation to hold Timorese prisoners. Hike with a local guide to the peak of Manukoko, enjoying unparalleled vistas of the island from atop the sacred mountain. Visit the cooperatives of the island whose missions have improved the lives of hundreds of women, including Manukoko Rek, a delicious Italian restaurant run by women in Vila; right next door, you can see the Boneca doll-making cooperative, where over sixty women earn a living selling handmade crafts; and in Adara, dive with the famed Wawata Topu, the female free-divers of Ataúro.
Whether you choose to stay in one of the many local homestays, Barry's Eco-Lodge in Beloi, camp in Akrema, or eat and sleep at Manukoko Rek, there is a place for everyone on Ataúro. There is more to do on the island than you will likely get away with during a vacation, but for those looking to stay longer, volunteering options are available with several local NGOs on the island. Be warned: the island is intoxicating, and you will soon be planning your next vacation to return again—or perhaps never leave!
Just a three-hour ferry ride or 45-minute speedboat ride from Timor-Leste's capital of Dili, Ataúro is a must-see destination for any intrepid traveler venturing into the country, or even nearby countries. Direct flights from Singapore and Bali, and inexpensive flights from Kupang via AirTimor, make Ataúro an accessible and unforgettable vacation or volunteer destination. Check out our Getting Here page for more details.